Pacific Northwest Hub for
Clean Energy
Research & Innovation
Agribusiness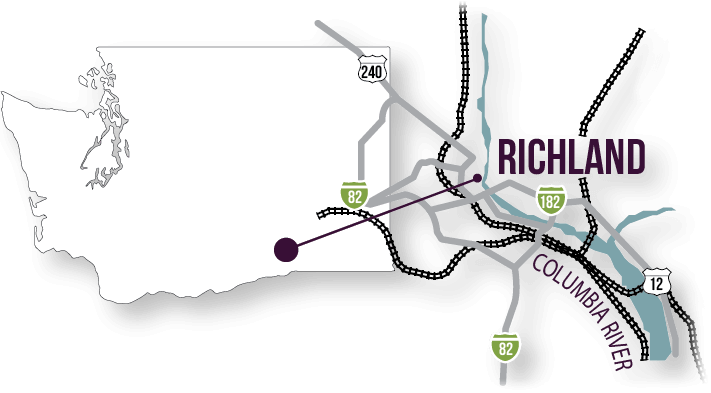 Bring your business here or expand your operations. City of Richland and Port of Benton are here to help you create a strong and secure future for your company. We offer 4,000 acres of industrial sites, up to 400 acres contiguous, to meet your land and facility needs.
A Great Place to Start a Business
A Dynamic City With Global Access

Connected to the World

Close to Everywhere
Among Washington's best cities for business, Richland is part of the fast-growing Tri-Cities metropolitan area. Richland is ideally situated in Washington's Benton County, just 30 miles north of the Oregon border and within hours of the Pacific Northwest's largest cities and marine cargo ports.
Richland is home to the Tri-Cities Research District – a Washington Innovation Partnership Zone – Washington VERTical, an international cluster working together to accelerate the deployment of next-generation nuclear and other advanced carbon-free energy technologies for a sustainable future – facilities and multimodal transportation assets to help your company thrive.
Over 7,000 Workers at More than 100 Businesses
Home to Leading Industries With Global Impact
Home to Leading Industries With Global Impact
Over 7,000 Workers are Located in North Richland at More than 100 Businesses
Let's talk business. Whether you're looking to start a business here, move your business to Washington or grow your Richland-based business, we're here to help. So reach out to us today. We're ready to help you transform your big ideas into reality.